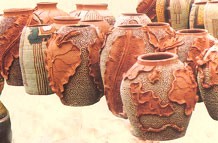 Artistic potteries by sculptor Vu Huu Nhung.
More than 100 pieces of artistic pottery by sculptor Vu Huu Nhung have been exhibited for the first time ever in Lotus gallery at 43 Dong Khoi Street, District 1.
With many potteries created from famous Phu Lang glazed terra-cotta, sculptor Vu Huu Nhung has refreshed and improved artistic potteries in his Phu Lang Village.
Mr. Vu Huu Nhung was born in 1975 in Phu Lang Village, Bac Ninh Province and graduated the sculptural faculty of the Ha Noi University of Industrial Fine Arts in 1999.
Moreover Vu Huu Nhung has won local prizes of fine arts in 1996-2000, 2000-2005 and a special prize in the "Artisan with Golden Hands" contest, awarded by the British Council in November, 2001.
This exhibition is expected to be open until the end of May, 2006.