On July 21, the General Science Library of Ho Chi Minh City held a storytelling contest for children and blind students at the Cong Nhan Cinema in Hanoi.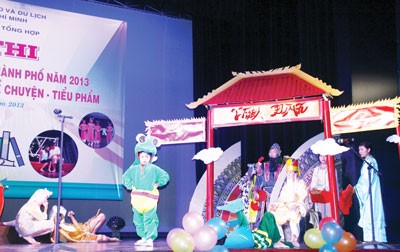 'Frog is God's Uncle' performance wins first prize (Photo:SGGP)
This storytelling contest for children attracted more than 3,000 participants and the organizers selected 600 of the most excellent children to take part in the final round of storytelling and reading of poems.
The contest introduced to children many kinds of traditional history books as well foreign books on national historical heroes.
The organizers also awarded 20 outstanding performances such as 'Gold in Fire', 'Frog is God's Uncle' and 'Fairy Dream'.