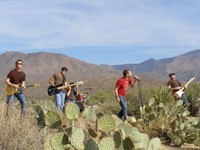 The US rock band Re:Zound
The US band Re:Zound will perform in Ho Chi Minh City on March 21 and 22 as part of their Asian tour.
The six-strong group will play rock songs and Negro spirituals in their concerts at the Lan Anh Club and Phu Tho Stadium, where the support acts will be the Vietnamese singers Tran Thu Ha and Anh Khoa.
Re:Zound's sets will include tracks from the 2003 debut album "Breath" like Just One Word, Beautiful, Sanctity, I Can Still Hear Them, I Belong to You, Never Change, 35 Weeks, Until, Great I Am, Hear I Am to Worship, I Love You and Lord.
Two years after Re:Zound began life in 1999 in Arizona, it was nominated for the Best Rock Band Award from MTV.
The band's recent visit to India was successful beyond expectations with more than 65,000 fans turning up at the concerts.
On their way to Viet Nam, Re:Zound played in Thailand and Cambodia.