Vietnam's 25th National Television Festival opened in Nha Trang City with the participation of more than 800 representatives from 76 units under the Vietnam Television (VTV) with 600 works of all genres. Four outstanding TV serials are "Faint Ray of Sun", "Fashion Company", "The Tranquil River" and "Stronger than Justice".

"Faint Ray of Sun" (6 episodes) directed by Bach Diep tells about the life of a young divorced woman named Hoa, who lives with her little daughter. Overcoming the difficulties of life in the post-war period of Vietnam, Hoa, a poor worker, has made great success in her career and become a wealthy businesswoman.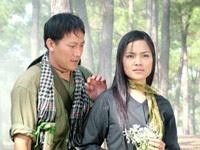 A scene in "The Tranquil River"
"Fashion Company" (30 episodes) is about a down-town girl named Nhien who desired to become a fashion designer. She encounters a lot of obstacles in her work and even in love before becoming a fashion designer. Nhien is an example of the Vietnamese young, talented and confident generation.

"The Tranquil River" (16 episodes) revives the uprising of the Vietnamese revolutionary forces in 1968. The war of nerves between Vietnamese and American troops happens in the suburbs and the edges of Hue City.

"Stronger than Justice" (13 episodes) gives an image of a crime investigation team, portraying the difficult and dangerous struggle between the good and the evil…