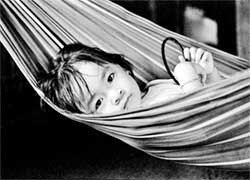 "Childhood" (Photo: Artist Ba Han )
Within the scope of the Asian Photography Month and on the occasion of the 114th anniversary of Japan Photography Association, the association has decided to hold a photography exhibition month on Viet Nam, conducted by Vietnamese photographers.
Two honored Vietnamese photographers, sponsored and invited by the association, are Ba Han from Ho Chi Minh City with his photo series "Thoi tho au" (Childhood) and Hoai Linh from Ha Noi with "Cuoc song tren song Hong" (Life on the Red River).
In addition, there are three sets of photos of artist Do Dien Khanh, Hai Au Photography Club and Photography Club of the central city of Hue.
The exhibition will last to June 18 at five big galleries in Tokyo.