The Vietnamese people are proud of Miss Vietnam Mai Phuong Thuy. Not only did she make into the final of Miss World 2006, hers was the first of the 17 names called out in the pre-final showdown in Warsaw, Poland.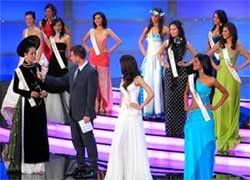 Mai Phuong Thuy answers the question in the Miss World finale

Dressed in an elegant ao dai, Thuy stood out from the crowd with her natural and charming beauty.

As a measure of her success, viewers in the Asia-Pacific region gave the 18-year-old more votes than any of the other 16 finalists.
This year there were three rather than two Asia-Pacific contestants in the Miss World pageant, the others coming from India and Australia.