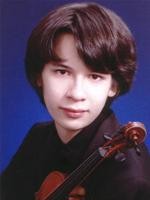 Ailen Pritchin
Ailen Pritchin, a Vietnamese-Russian violinist living in Saint Petersburg, has won the first prize in the fourth international violin contest Abram Yamponsky, an international musical event named after a famous Russian musician and educator.
Ailen's father is Nguyen Vien Thong, a Vietnamese and his mother, Marina Pritchina, a Russian. At the contest, the young violinist successfully showcased his talent in 3 rounds and convincingly won the first prize.
The second prize went to a Hungarian violin player. The third prizes were awarded to violinists from Russia, Moldova and North Korea.
This year's contest attracted 38 players from Russia, China, North Korea, the US, Poland, Hungary, Ukraine, Moldova, Germany, Japan, Britain, Czech and Slovakia.
The contest, running from April 26 to May 5, was organized for fiddlers at the age ranging from 15 to 30.