The Giang Vo Exhibition Center in Ha Noi will host a six-day fair of products from Viet Nam's traditional occupational villages starting on December 12.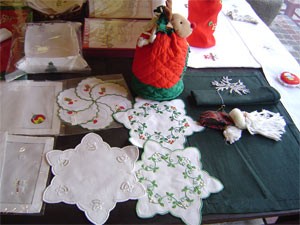 Objects from specialized craft villages in 40 provinces and cities are on show in Ha Noi on December 12-17 (Photo: Y.Ch.)
Thousands of objects from these specialized craft villages in 40 provinces and cities will be on show at the 300-plus booths, including a sizeable quantity from seven villages and 30 art and craft co-ops in Ho Chi Minh City.
 
As usual at this sort of affair there will be a competition to encourage creativity and honor the best artisans. The winners will be announced and receive their awards at the closing ceremony on December 17.
 
The participants will be sponsored by their respective cities and provinces. Ho Chi Minh City, for one, will pay to ship all the city's goods to the fair and cover half the cost of leasing display space.
 
The organizers of the event, whose Vietnamese name translates as "Products of Traditional Vocational Villages and Vietnamese Gifts 2006", are Sai Gon Giai Phong newspaper, the Cooperative Alliance Vietnam Ho Chi Minh City and the Viet Nam Exhibition and Advertising Company.