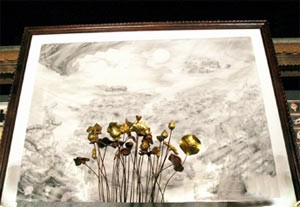 A draft of the huge embroidered picture to be made by nine XQ artists
The "XQ – Thang Long-Hanoi Autumn" festival took place at the Temple of Literature in the capital of Ha Noi on October 7 as part of the activities to mark the 52nd anniversary of the capital liberation (October 10) and the 1,000th anniversary of Thang Long – Ha Noi.
Participants had the chance to enjoy hundreds of hand-embroidered products made by XQ artists in Da Lat city with a wide range of topics from landscape to human life, from flowers to animals, and from realistic beauties to modern art ideas.
On this occasion, nine XQ artists have decided to make a huge embroidered picture, 4 meters long, 3 meters wide and 167.5 kg in weight, from October 2006 to December 2009 in preparation for the 1,000th anniversary of Thang Long-Ha Noi in 2010.