The organisers of 'National Tourism Year 2012' in Hue in the north central coastal area and authorities in the central province of Thua Thien-Hue have announced that a number of cultural activities will take place during the months of June, July and August.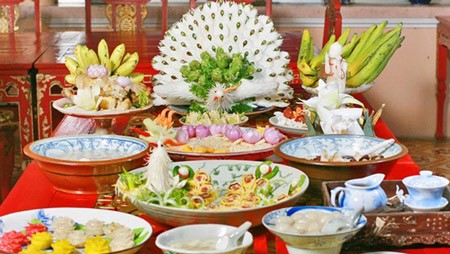 'Central Coastal Food Festival 2012' will be held from June 28-July 1
All the cultural activities aim to promote tourism in the country and lure domestic and international tourists.

- 13th ASEAN International Open Chess Tournament will take place in the central province of Thua Thien-Hue from June 10 to 19. Participants will be divided into different age groups ranging from 8 to 20, and over 50, to compete for 78 sets of medals in accordance with the Swiss system.

- 'Central Coastal Food Festival 2012' will be organised by the Vietnam National Administration of Tourism, Vietnam Hotel Association, and departments of Culture, Sports and Tourism of   Thua Thien-Hue Province and the northern coastal provinces at Hue Sports Centre from June 28-July 1.

- Lang Co Festival- World's Most Beautiful Bay will open on June 16-17 in Phu Loc District. Lang Co was declared the 'World's Most Beautiful Bay' in 2009, becoming Vietnam's third bay to be so named after Ha Long Bay and Nha Trang Bay. Lang Co beach, 30 kilometres north of Hue City, is a peaceful fishing village famous for its spectacular natural landscapes, surrounded by mountains and the boundless blue sea with waves playing on its fine sand beaches. Between the mountains and the sea lies the mysterious Lap An lagoon, home to flocks of white storks that return to their nests every evening.

- 39th National Long-Course Swimming Competition will be organised at the Tu Tuong Park from June 18-30.

- 300 artists from 19 art troupes will participate in the National Drama Stage Festival at Hue City Cultural Centre from July 14-28.

- U17 National Football Champion 2012 will kick off in Tu Do Stadium from July 11-20. Matches will be broadcast live by Vietnam Television.

- U18 Tennis Championships will take place in An Cuu New Urban from June 18-26.

- Traditional Martial Arts Competition will be held at Hue Sports Centre from August 23-September 1.