A series of cultural activities are being held to mark International Women's Day in many entertainment areas in Ho Chi Minh City.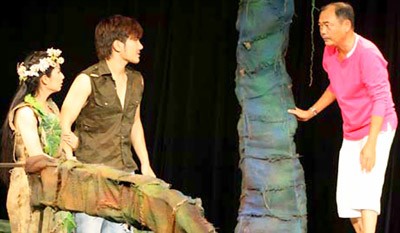 A drama being performed by 5B Vo Van Tan Theatre. (Photo: Sggp)
Dam Sen Cultural Park is offering various programmes including shopping of interesting knick knacks, music shows and performances of short comedy skits.
Flower arrangement contests, music and dance performances, photo exhibitions marking Women's Day will take place at the Ho Chi Minh City Women's Cultural House on March 7-8.
Most theatre stages like 5B Vo Van Tan, IDECAF, Hoang Thai Thanh and Phu Nhuan will present to audience dramas and comedy skits.
Lan Anh Music Stage is also planning a musical rendezvous for young music lovers with a special programme on March 8 featuring famous singers such as Siu Black, Phuong Thanh, Lam Truong, Thu Minh, Phuong Vy, Tra My and Nhat Tinh Anh.
Meanwhile singers including Duc Tuan, Ha Anh Tuan, Nguyen Vu and Thien Di will arouse the school-yard of the Ho Chi Minh City National University in Thu Duc District on the same day.
Painting and photo exhibitions on women are being held at the Ho Chi Minh City Fine Arts Association, the city's Exhibition House and Lam Son Park from March 1-10.