A wide range of folk cultural activities and sport games will mark the death anniversary of the Hung Kings at the Hung Kings Temple Festival in Phu Tho Province from April 5 to 12 (March 5-10 lunar calendar).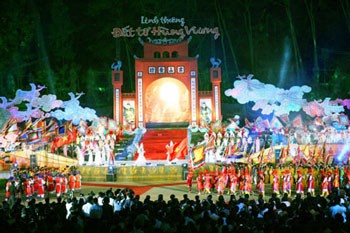 Hung Kings Temple Festival in Phu Tho Province in 2010. (Photo: Sggp)
Worship and ritual offerings commemorating the Hung Kings will take place at the temple of "Father of the Nation" Lac Long Quan, Mother Au Co temple and Thuong temple.
Traditional cultural activities, sport and folk games such as art performances, food fairs, film screenings and the Banh Chung-Banh Day (Square glutinous rice cake, Round glutinous rice cake) making contest will be hosted in Viet Tri, capital of Phu Tho Province and the Temple of the Hung Kings and in adjacent areas.

A ceremony for offering bronze drums to the Hung Kings Temple will be organized by the Vietnam Cultural Heritage Association.

An international seminar on Hung Vuong belief and worship and a request to UNESCO to recognize it as an Intangible Cultural Heritage of Humanity will be held in Viet Tri City.