A three day cultural event will mark the 45th anniversary of diplomatic relations between Vietnam and Cambodia, from December 7 to 9 in An Giang Province in the Mekong Delta.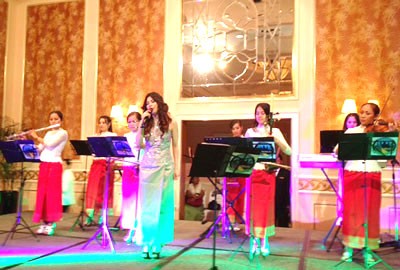 Cambodian singer Huy Syna performs a Vietnamese song at an event to launch a new bus tour between Ho Chi Minh City and Phnom Penh
The opening ceremony of the cultural event will take place in Tinh Bien Ward Stadium in An Giang Province on the evening of December 7.
The ceremony will feature a documentary film on the high profile visit to Vietnam of King Norodom Sihamoni of Cambodia; diplomatic conferences; cultures exchanges; mutual investment projects; and the very compassionate trips made by Vietnamese doctors to treat Cambodian patients. Folk songs and traditional dance performances will add colour to the event.
The cultural program is being organized by Vietnam's Ministry of Culture, Sports and Tourism with participation of Dong Thap, An Giang and Kien Giang Provinces in Vietnam and Prey Veng, Kandal, Takeo and Kampot Provinces in Cambodia.
Other highlights will include a photo exhibition of the friendship ties between Vietnam and Cambodia and the unique cultures of each country such as folk songs and dances and a presentation of a traditional wedding and festive costumes.
The friendship ties between Vietnam and Cambodia are deep rooted since wartime, 45 years ago. During those tough times, people from both the countries fought side by side and developed a warm camaraderie and till today that spirit has not died down.