"Hue Festival 2006 with more special art performances is expected to leave memorable impression to visitors", Mr. Ngo Hoa, chairman of the People's Committee of Thua Thien Hue Province, said.
The opening ceremony will take place in Ngo Mon Square on June 3 with special performances by the national symphony orchestra, royal dances, Vietnamese court music and other Vietnamese art troupes. There is also fireworks display by Pierre Alain Hubert, a French fireworks artist.
From June 3 to 11, 2006, a lot of art programs of high quality will be showcased every night all over the city, such as the Citadel, An Dinh Palace, Ngo Mon Square, Tinh Tam Lake, Nguyen Van Troi Park, Sport Competition Center, French Cultural and Exhibition Center of Hue City and other adjacent districts.
This year, the management board will extend Hue Festival 2006's programs for all people to take part in. The festival consists of IN and OFF programs.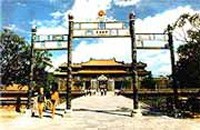 Ngo Mon Square
The IN program will take place in the Citadel and An Dinh Palace with 12 stages and more than 100 art performances, such as ceremony for Nam Giao Esplanade, fashion shows on Ngoc Dich Lake, special art performances by foreign art troupes from France, UK, China, Russia, Thailand, Indonesia, Argentina, Japan, the Republic of Korea (KOR).
Especially, the impressive "Hue Royal Palace by Night" will be held inside the Citadel to revive the fanciful space of Hue Palace, with such activities as performances of royal dance, court music, Hue classical drama, Hue folk music.
The OFF program consists of 11 festive ceremonies, 7 art performances, two international symposiums (The International Sculpture Symposium "Hue-Viet Nam Impression 2006" and The International Music Composing Symposium), 7 art exhibitions, 7 cultural art contests, three trade fairs.
Among them, the Cultural Exhibition and Tourism Trade Fair are registered by over 1,000 domestic and foreign stalls.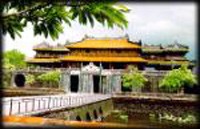 Hue Citadel
In early May 2006, some warm-up activities took place during the month to publicize the festival such as the International Sculpture Symposium "Hue-Viet Nam Impression 2006", Nha Nhac (Court music) Exchange between Viet Nam Japan and KOR, the International Music Composing Symposium, Hue Poetic Festival and many more.
In addition, the cultural space of Cong Chieng (Gong) from Central Highlands, which has recently been recognized as a masterpiece of oral and intangible cultural heritage of humanity by UNESCO, will also be performed in the festival.
Various activities of culture, tourism, sport competition and festivity will take place from the Citadel to Hue City's adjacent areas.
The management board also opens new tours for tourists, such as those to visit Hue famous pagodas, Tam Giang Lagoon, Truong Son Mountain, Bach Ma-Lang Co-Canh Duong ecology tourism zone and enjoy Hue vegetarian dishes…Coming to Festival Hue 2006, tourists will have a great chance to discover the diverse lifestyle in Hue.
Thua Thien Hue Province authorities consider the Festival Hue 2006 as a chance to promote meetings, friendship exchanges and investment opportunities in many fields with the national and international partners.

Related articles:
- Quoc Binh's Collection to Be Introduced in Hue Festival
- International Sculpture Symposium "Hue-Viet Nam Impression 2006" Opens
Link: www.huefestival.com