The Performing Arts Department has suggested changes to a government project to stage 100 popular international and national plays in Hanoi and Ho Chi Minh City.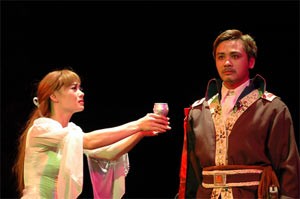 Intrigue and love by German playwright Johann Christoph Friedrich von Schiller will be one of the 100 plays to be staged under an ambitious government project
In a proposal it submitted to the Ministry of Culture, Sports and Tourism, the Department has recommended drawing up a list of 200 plays, 150 of them Vietnamese and the rest international, from which theaters can choose 100. 
But even this should not preclude the theaters from choosing plays from outside the list, it said. 
It also recommends performing the plays for a period of 11 years rather than the two the program envisages. 
In February the HCMC Stages Association held a conference to discuss the project but it ended in acrimony, with some saying the project would fail due to some reasons like high cost, lack of facilities, and lack of experienced actors and actresses.
Related article:

Project for 100 plays ends in farce