Thousands of Buddhist monks, nuns, and followers in Ho Chi Minh City and neighbouring provinces have engaged in a culture week recently started in the city to celebrate the 11th United Nations Day of Vesak.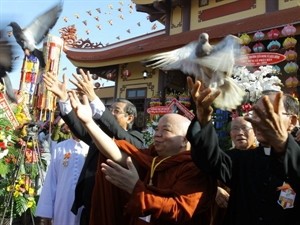 Vesak 2013 (Photo: VNA)
The week, which runs from April 29 to May 4, features a wide range of Buddhism-themed activities such as photo exhbition, vegetarian cuisine fair, and flower-arranging and calligraphy-writing contests.
The United Nations Day of Vesak (Buddha's Birthday, Enlightenment and Passing Away) will be held in northern Ninh Binh province on May 7-12. It is the second time Vietnam has held such event.
Buddhism has been practiced in Vietnam for over 2,000 years. The country has more than 12 million Buddhist followers, over 40,000 monks and nuns and almost 15,000 temples, monasteries and other places of worship.