The drama Dạ Cổ Hoài Lang (Night Drumbeats Cause Longing for Absent Husband), a production by talented scriptwriter Thanh Hoàng, will be restaged in a new version in the US next month.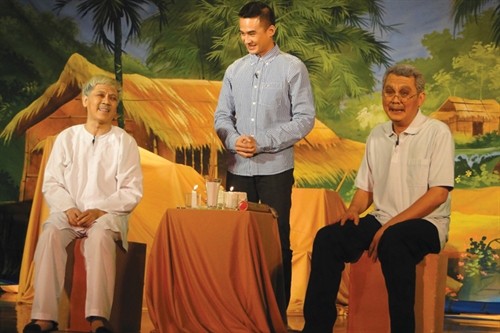 Drama Dạ Cổ Hoài Lang (Night Drumbeats Cause Longing for Absent Husband) will tour in the US next month. doanhnhansaigon.vn photo
The work's theme highlights the country's traditional culture and its spirit of different generations.
In the new version, the play's context is set in the US in the 1980s. It will feature life of older Vietnamese people who are facing obstacles in integrating with their new life and culture.
"We will change some details in scripts and stage management to suit the new context," said director Vũ Minh, who has directed the play since 2014.
"We also hope to attract more young people in the US who can learn more about Vietnamese culture," he added.
The performance will be staged by artists of IDECAF Theatre.
Meritorious Artist Thành Lộc will continue his performance in the title role of Tư, an elderly man nostalgic after years living away from Việt Nam.
Lộc, who is often seen in comedic roles, has played the role for a number of shows. His peer, Meritorious Artist Hữu Châu, will play the minor role of Tư's close friend.
The play will tour in San Jose, Houston and Orange County from August 4-17.
Dạ Cổ Hoài Lang is named after the famous vọng cổ (nostalgic tunes) song written in 1920 by Cao Văn Lầu of Bạc Liêu Province, who is recognised as the guru of cải lương (reformed opera) theatre.
Since its debut by 5B Small Theatre in 1994, the play has been staged more than 900 times across Việt Nam, starring artists of different generations like artists Việt Anh, Thanh Hoàng and Hoài Linh.
It won the Golden Medal at the National Theatre Festival in 1995.