Mentioning the city of Da Lat as destination for a holiday, listener's eyes begin to sparkle, especially when they are young.
Da Lat reminds them of a dream they have when they get married. This is a place for honeymoon couples.
Or, of people who are a little older and well established within the framework of daily routine, they talk about the beautiful flowers up there in the mountains.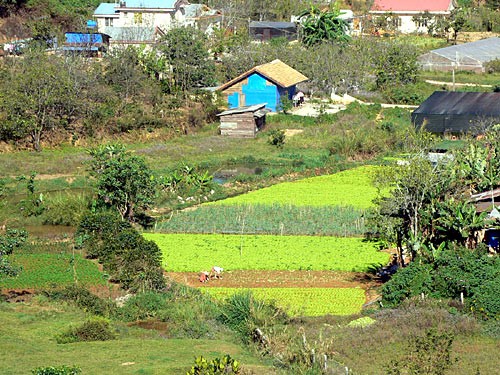 Agriculture is the backbone of Da Lat economy
Da Lat, the self-proclaimed City of Flowers, keeps its promise. While you enter the city there are flowers all over. You don't see them because your expectation is high; you see them as the flowers are really catching your eyes. Although it isn't even spring time, there is always a season for flowers.
It is a long drive
Before the author set foot in Da Lat, he had to go through a long and strenuous drive by bus zigzagging up-hill. It took us five hours from Ho Chi Minh City. Unfortunately there is no other way to reach Da Lat than by car. Not that I regret the trip which was very informative seeing the different agricultural landscapes and nature reserves, I would have enjoyed a train ride better. But there is no train. Although there is Lien Khuong Airport, about 30 kilometers south of Da Lat, in Duc Trong District, you need to ascend to the level of 1,500 meters to see one of the best holiday resorts in southern Vietnam.
Who are looking for a weekend to relax?
People who are tired of the heat and stress they face in overcrowded cities and even bustling beaches. There are those romantic young folks who are in love and look for some quiet days and nights; and there are those elderly well-off people who come for tranquility and can afford luxury.
Tourists have good reasons
Artichokes are the most beautiful flowers to eat
Reading the statistics for 2005, most of the foreign tourists come from Asia, just from the extended neighborhood in the region. Looking at the other nationalities, the Americans are leading the chart with 19,000 visitors, followed by the Australians, and the French ranking third.
This isn't really a surprise, as the French colonial masters have shaped the town and made it their place for relaxation and recreation when fleeing the heat of Saigon. Da Lat became also the center of agricultural experiments to introduce new fruit, vegetable, cash crop and, of course, all kinds of flowers. The only Frenchman, Doctor Alexandre Yersin, is still respected for his achievements and having done well for the Vietnamese population. He came to Da Lat in 1893 and lived with the people in harmony.
Is this the reason why French tourists are third on the list of visitors?
Most probably, there is this kind of nostalgia with a number of tourists traveling Vietnam.
Here in Da Lat they can see old buildings resembling French architecture which has disappeared in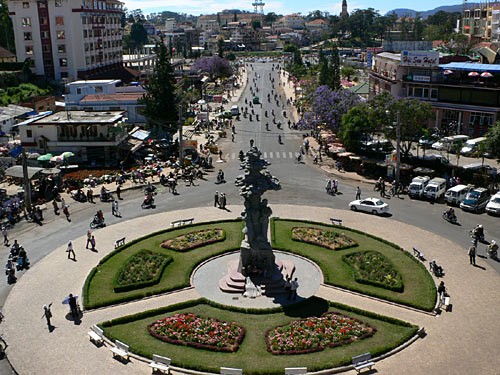 The hero's monument in front of Da Lat Market
 their homeland. There are those pompous colonial buildings for its administration, schools and villas. Some of those rare jewels of architecture are neatly preserved and restored, to serve another purpose today. Some of those buildings are turned into luxurious hotels. A French visitor might feel at home, walking at a time line a hundred years back. An environment they know from their grandparent's stories describing the mountains they call "Les Vosges" in Eastern France.
Small number of German visitors
As the Germans share the same mountain ridge with France, visitors from Germany to Da Lat are number five on the list, with 6,000 tourists only. (The British are 4th in the ranking.)
There might be reasons for the small number of Germans going to Da Lat. One good reason is that German travelers look for exotic holiday resorts. They come in big numbers to the beaches enjoying the scorch of the sun in Vietnam. Cool and pleasant mountains they have at home although the beautiful flowers of Da Lat are missing. Most of the German look for ancient monuments and cultural events and good food. If the old railway line between Song Pha and Da Lat would be still in operation, more tourists from the northern part of Europe would be attracted. The author knows his fellow countrymen. They like riding a train, looking at the beautiful landscape and relax.
Favorite sites
Finally, this lively city Da Lat has a very long list of tourist attractions to be named. It is well documented with various internet websites.
My favorite sites where the following four places:
Going by cable car to the largest Zen Meditation Study Centre in Vietnam.

Exploring the so called "Crazy House" (Guesthouse) which is by no means crazy architecture.

Understanding the art of embroidery at the XQ History Village

Shopping at the "underground" market place and admiring the famous flowers of Da Lat.
Related links >>>
Travel to Vietnam:  About Dalat City
http://www.traveltovietnam.com/Guide/Dalat/default.asp
Dalat Wine: About Dalat City
http://www.dalatwine.com.vn/en/aboutdalatcity.htm
Dalat Tourist
http://www.dalattourist.com.vn/aboutus.asp
XQ Silk Hand Embroidery in Dalat
http://www.xqhandembroidery.com/home.html