The opening ceremony of Da Lat Cultural Tourism Week 2013, the Vietnam-ASEAN-UNESCO Heritage Festival, the 120th anniversary of Da Lat City, the fifth Da Lat Flower Festival and Central Highlands-Da Lat National Tourism Year 2014 will officially take place on December 27.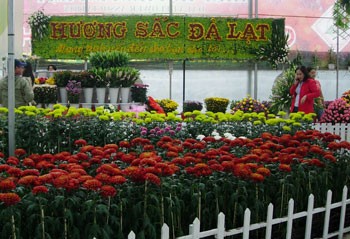 Da Lat Flower Festival is the biggest cultural event in Lam Dong Province.(Photo: KK)
The cultural week and the flower spaces were started on December 26.
The flower space on Le Dai Hanh Street-Ong Dao Bridge themed "Highland fragrance" describes regional typical images such as gongs, communal house, and Da Lat flower industry.
Another flower space along Ho Xuan Huong lakeshore titled "Beautiful garden" is decorated with colorful flowers, flower butterflies and pinwheels.
The resort town is expected to attract around 40,000 visitors during the biggest cultural event. It is an important event for the region that is not only to highlight the beauty of Da Lat flowers, but also to boost tourism, the local flower growing industry, and honor the popular resort town.
Local and international flower lovers, farmers, local and foreign flower businesses will have oppotunity to share experiences and seek trade exchange. The event will present to national and international visitors a vast variety of flowers along with many cultural activities, such as flower exhibitions, music performances, fashion shows, seminar on flowers, a night wine festival and a New Year fireworks display.
On the occasion, hotel prices have increased by 100-200 percent and 30 percent. Accordingly, a single bedroom at a two-star hotel is priced at VND600,000-700,000, instead of VND250,000; a double bedroom is priced at VND1 million, instead of VND450,000.