Truong Sa (Spratly) Archipelago will be highlighted at the 5th Da Lat Flower Festival that will take place from December 27-31.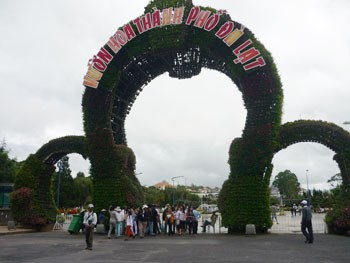 The 5th Da Lat Flower Festival that takes place from December 27-31,2013. (Photo:KK)
The Island, the sovereignty landmark and the red flag with a gold star will be made of stone and flowers at the festival, contributing to highlighting Vietnam's sovereignty over the Islands and Sea.

The 5th Da Lat Flower Festival will mark the 120th anniversary of the establishment of Da Lat City. It is an important event for the region as not only does it highlight the beauty of Da Lat flowers, it also will boost tourism, the local flower growing industry, and honor the popular resort town.

It will act as a base for local and international flower lovers, farmers, local and foreign flower businesses, to share experiences and seek trade opportunities.

The event will present to national and international visitors a vast variety of flowers along with many cultural activities, such as flower exhibitions, music performances, fashion shows, seminar on flowers, a night wine festival and a New Year fireworks display.

The festival was organized for the first time in 2005 and is subsequently held every two years.