The third Da Lat Flower Festival has been rescheduled from the original date, December 19 - 23, 2009, and will now be held between January 1 and 4, 2010, it was recently announced.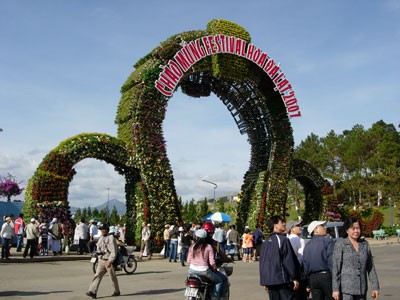 Dalat Flower Festival 2007 (Photo:KK)
The biggest cultural event in the city, "Da Lat: The city of a thousand flowers," will take place in and around the city and the adjacent area of Duc Trong District in the Central Highlands province of Lam Dong.
The flower festival is a combined tourist, social and cultural event aimed at promoting the biggest resort city in the country to local and international visitors.
The show also honors the value of Dalat flowers and Dalat flower growers, as well as boosting the local flower industry.
The festival is a place for local and international flower lovers, planters, related businesses and researchers to exchange experiences and present their products.
The province will invest VND15 billion in organising the event, featuring hundreds of diverse activities, such as the Da Lat flower market, an international flower exhibition introducing famous flowers from regions in the country and abroad, musical and fashion shows, an international trade-expo, seminars on flowers, a night wine festival, a tandem bike festive day, a flower arranging competition, a climbing competition - "Conquering Langbian" and the Dalat Open Golf Competition.
Visitors will also have a chance to enjoy flower streets, flower islands and flower towers on the main streets in Da Lat City, Duc Trong District's Lien Nghia Town and at the airport.
Organized for the first time in 2005, the festival, held every two years, will be one of the many national festivals to celebrate the 1000th anniversary of Thang Long – Hanoi.
The organizers have called on residents and local organizations to join hands to make the festival a success. Many people have begun to clean and decorate houses and streets and are serving as volunteers.