The Da Lat Flower Festival 2010 will be held from January 1 and 4, the People's Committee of Lam Dong Province has announced.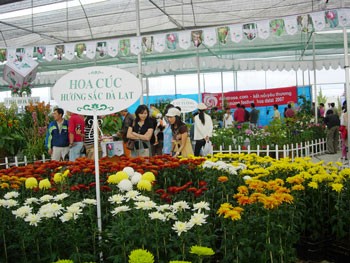 A flower exhibition is held duirng the 2007 Da Lat Flower Festival  (Photo:KK)
The event, "Da Lat: The city of a thousand flowers," will present to local and international visitors its various kinds of flowers, and cultural activities and sport competitions, such as the Da Lat flower market; an international flower exhibition introducing famous flowers from regions in the country and abroad; musical and fashion shows; an international trade-expo; seminars on flowers; a night wine festival; a tandem bike festive day; a flower arranging competition; a climbing competition - "Conquering Langbian;" and the Dalat Open Golf Tournament.
The amount of flowers to spruce up the festival will be increased by 50 percent over previous events.
The show also honors the value of Dalat flowers and Dalat flower growers, as well as boosting the local flower industry and act as a center for local and international flower lovers, planters, related businesses and researchers to exchange experiences and present their produce.
The local authorities have also taken measures to limit large increases in room prices during the festival.
Organized for the first time in 2005 and held every two years, the festival has been rescheduled from the original date, December 19 - 23, 2009, and will now be held in January, 2010.