The international cinema event gives cinematic exchanges between movie industries and offers courses in acting, design (costume, scenic, lighting/sound), make-up, stage direction and among with the participation of renowned artists, including Vietnamese French director Tran Anh Hung, South Korean actress Lydia Park, movie star Moon Sori and director Yim Soon Rye, Vietnamese-born French actress Tran Nu Yen Khe.

Moon Sori won the Marcello Mastroianni Award for Emerging Actor or Actress at the 59th Venice International Film Festival for her 2002 film "Oasis." She is also best known for her acclaimed leading roles in "Hill of Freedom" and "A Good Lawyer's Wife".
Tran Anh Hung was an Oscar nominee and Cannes Camera d'Or winner in 1993 for Scent of Green Papaya; more recently, director of the 2010 adaptation of Haruki Murakami's hit novel Norwegian Wood.

The event also includes activities, including a forum titled "Women Film Women Live" honoring outstanding contribution of female directors to the movie industry, such as Nguyen Hoang Diep of Vietnam, Anocha Mai of Thailand, Uisenma Borchu of Mongolia; film project market; film screenings of movies by directors Tran Anh Hung, Davi Chou, Anocha Mai and Nguyen Hoang Diep in Ho Chi Minh City and Da Nang.

Several films of young directors that have been created from the "Autumn Meeting" program over the past 5 years have been chosen for international film festivals, such as "Vo ba" (The Third Wife) by Nguyen Phuong Anh selected for the Hong Kong-Asia Film Financing Forum (HAF) at the 2016 Hong Kong International Film Festival and received a cash prise of US$20,000; "Culi Never Cries" by Phan Ngoc Lan receiving the Hubert Bals Fund for Script Development at International Film Festival Rotterdam; "Culi Never Cries" and "Taste" by Le Bao chosen for the L'Atelier Cinéfondation at the 2017 Cannes Film Festival; "Thang Rom" (The Lottery Boy) by Tran Dung Thanh Huy and "Cha Cha Cha" by Do Quoc Trung selected for the Asian Project Market (APM) at Busan International Film Festival 2015.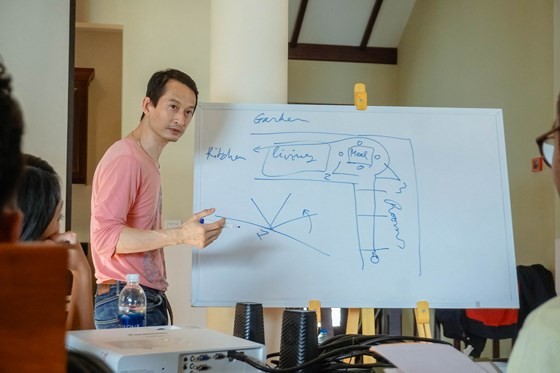 Vietnamese French director Tran Anh Hung in a directing workshop