A photo exhibition, titled Viet Nam Heritage& Binh Thuan-Hoi Tu Xanh (Green Focus) 2015, opened yesterday at Da Nang's Technology College.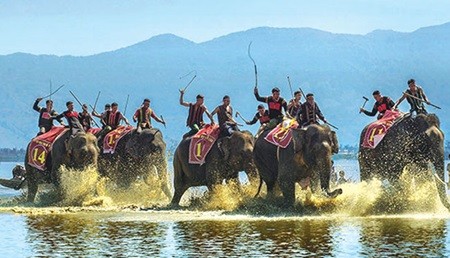 Making a splash: Exhibition Viet Nam Heritage & Binh Thuan-Hoi Tu Xanh (Green Focus) presents photos on nature, culture and daily life topics
The organising committee said the exhibition displays 1,000 photos selected from 4,740 photos of 537 photographers (including nine foreigners) nationwide.
It's the second year in a row the exhibition has been held at the central city's Technology College.
The photo exhibition focuses on four topics – Nature, Tangible and Intangible Culture and Daily life – featuring photos of nature, religious festivals, architecture, stories of people and nature, and cultural tradition events.
It also includes 53 photo sets and 494 single photos on the nature and culture of Binh Thuan Province.
The exhibition, organised by Viet Nam Cultural Heritage Association and Heritage magazine, will mark the 10th anniversary of the Viet Nam Heritage Day.
According to the organising committee, the best 100 photos will be displayed at Da Nang City's Cham Sculpture Museum from November 9 through lunar new year holidays that falls in February,2016; at HCM City's National University from November 6-12; at Ha Noi's Foreign Trade College on November 4-9 and Ha Noi Museum on November 12 to March 12.