An elephant from Yang Tao Village won the first ever race for pachyderms held yesterday in the Tay Nguyen (Central Highlands) province of Dac Lac.
A large crowd of locals and tourists watched and cheered as 35-year-old Y Nap defeated 19 other contestants from Jun, M'Lieng, Yang Tao and Le villages to become the champion on a 200m dirt racing track on the banks of the Lak Lake, about 60km north of the province's Buon Ma Thuot Town.
The second and third place went to elephants from M'Lieng and Le villages.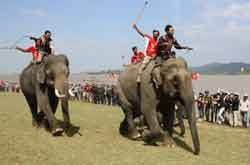 Elephants race under the instruction of skilled mahouts in the Tay Nguyen (Central Highlands) province of Dac Lac. File Photo
In the qualifying round, four teams, each comprising 5 elephants aged 23 to 45, raced each other and the first five qualified for the final.
Each elephant was ridden by two handlers who prodded the animals to run as fast as they could.
Swanny Henry, a French tourist, said this was the first time she had seen elephants.
"I did not know there was an elephant race today, but it is exciting and wonderful, " she said, adding that she wanted to dig deeper into the Central Highlands and make more "surprising" discoveries.
Annie Maisonneuve, 32, from Quebec, Canada, said she felt "very fortunate" to see the elephants for the first time. She was also not aware of the race and seeing it was a bonus.
Although he has been living in Viet Nam for 17 years in the resort city of Nha Trang, it was the first time that Canadian Sylvio Lamarch, 54, had the opportunity to see an elephant race.
"It was great fun," said Lamarch, who runs the Jungle Beach Resort north of Nha Trang.
A dugout canoe race was also held on Lak Lake, attracting competitors from Jun, M'Lieng, Yang Tao, Le, and Chua villages.
Each of the 20 canoes was rowed by three local young men who spared no effort as they raced in the strong wind towards the finishing line.
Canoes from Jun and Yang Tao villages won the first and second prizes at this event.