The Central Highlands province of Dak Lak December 19 paid homage to the practice of elephant hunting by local ethnic people in Krong Ana Commune, Buon Don District.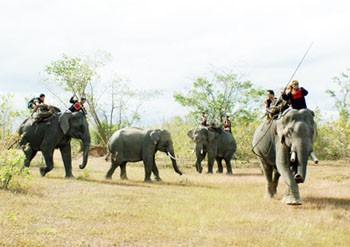 A performance of hunting elephants during Dak Lak Province's tourism and culture week December 16-20 (Photo: SGGP)
The event was part of the Buon Ma Thuot-Dak Lak Culture and Tourism Week, hosted by the province from December 16-20.
Tourists and locals watched December 19 as 31 hunters rode 15 tamed elephants to catch a wild elephant.
The father of elephant hunting is N'Thu K'Nul from Laos, who was born in 1928.
He was also the founder of Ban Don, a famous area of Buon Don District with a long tradition of hunting and taming elephants.
He captured hundreds of elephants including a rare white elephant, which he presented to Thai royalty in 1861.
The King of Thailand at the time conferred him the title of "Khunjunob," meaning "elephant hunting king."

Related article:
Highlands tourism week celebrates elephants