World-famous TV series "Dancing with the Stars" is set to debut in Vietnam April 11 with eight episodes.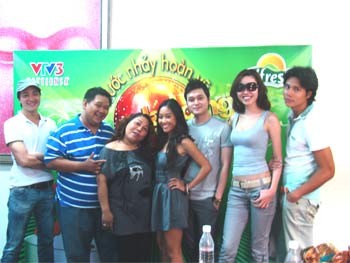 Vietnamese "Dancing with the Stars" contestants pose during a press conference on April 2 in Ho Chi Minh City(Photo: Cat Tien Sa Media)
The US reality show is based on the British series "Strictly Come Dancing," where celebrities partner-up with professional dancers and compete against each other in weekly elimination rounds to determine a winner. The format has now been licensed to more than 30 countries.  
Titled "Buoc nhay hoan vu," the Vietnamese version will see the participation of eight local celebrities from different entertainment fields.  
The famous personalities include singers Siu Black, Doan Trang and Quang Vinh; actors and actresses Ngo Thanh Van, Luong Manh Hai and Minh Beo; Mister International 2008 Ngo Tien Doan; and Miss International Beauty 2009 Vu Thi Hoang Diep.   
The eight stars will receive one month of instruction from foreign choreographers and then pair up with dance masters from the US and Bulgaria to learn dance routines. 
In the Vietnamese version, a group of judges known as the "Fantasic four," including movie directors Quang Dung and Le Hoang, and dance masters Chi Anh and Khanh Thi, will critique the celebrities' performances and give feedback on how they can improve. 
Singer Thanh Thao will host the show, in her debut as an MC, along with seasoned host Thanh Bach. 
Speaking to SGGP (English Edition) about the kick-off of the series, Miss International Beauty 2009 Diep said, "My initial feeling about the contest is excitement. In preparation for launching my singing career in the future, learning to dance is also an important part. However, I have not had enough time to practice until I participated in the series.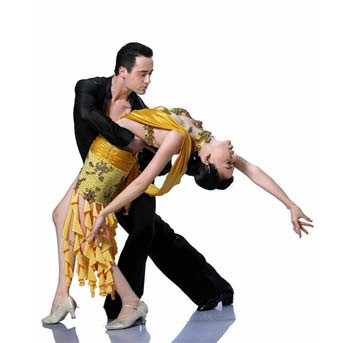 Miss International Beauty 2009 Vu Thi Hoang Diep in a dance with her partner
"The actual practice is totally different than what I had imagined. From what I saw on TV, I thought dancing would be easy, but it's not. Remembering all the moves from a type of dance is hard. It's also 10 times harder since I have to remember 10 different dances. Sequence, music, body positioning – you have to combine all of these in order to present a beautiful, flawless performance," she added. 
When asked her opinion of her foreign partner, Diep said, "I like my partner a lot. He's cute, kind, humorous and very patient. I bet we will be one of the last teams standing." 
The series will be broadcast every Sunday from 8pm to 9:30pm on channel VTV3 from April 11 to June 20. It is produced by Vietnam Television Station, Cat Tien Sa Media and Vfresh Co.   
Local organizers hope the series will enjoy the same popularity here as it has in other countries around the globe.