An unusual exhibition titled "Buon ban binh thuong" (Business as usual) by three Vietnamese and three Danish artists opens on July 24 at the Hanoi Future Art.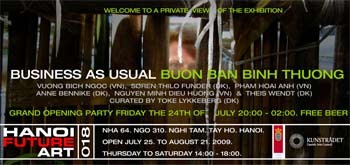 A flier to promote a group art exhibition that opens at Hanoi Future Art on July 24 (Photo: Courtesy of CDEF )
Anne Bennike, Soren Thilo Funder, and Theis Wendt (Denmark) and Pham Hoai An, Nguyen Minh Dieu Huong, and Vuong Bich Ngoc (Vietnam) had three weeks to "cast a spell" and change the exhibition space into a shop made entirely of bamboo.

The shop is a mixture of the various cultures and has individual and group works made of various materials on display.

The concept of the exhibition is to give visitors the new experience of seeing exhibits in the ambiance of a shop.

The event, a collaboration between Cultural Development and Exchange Fund and the Danish Arts Council and handled by Danish curator Toke Lykkeberg, will remain open until August 21. Entry is free.