This year's annual contest, run by the Denmark-Viet Nam Culture Development and Exchange Fund (CDEF), for talented young Vietnamese with a passion for the arts has begun, with this year's competition based on contemporary dance.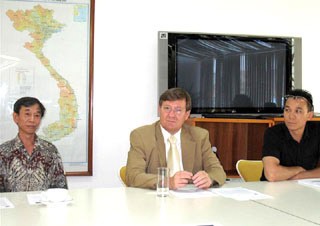 The Vietnamese and foreign judges of the competition.
The contest is open to Vietnamese aged 35 and under. Each entrant must submit a supporting statement of no less than 200 words, explaining the meaning and inspiration behind their choreography.
The competition is part of the annual activities that the CDEF have been running over the past five years, aiming to discover and encouraging talented young Vietnamese.
Vietnamese and foreign judges, including artists Nguyen Cong Nhac, Ha The Dung, Tran Luong, and counselors from the Danish Embassy, will choose seven of the entrants to go through to the final.
These top seven will perform from November 12 to 18 at the Ha Noi Youth's Theater, during the week promoting diplomatic activities organized by the Embassy of Denmark.
The winner, chosen by the 600 strong audience will be awarded US$3,000.
Entrants can contact the Danish Embassy at 19 Dien Bien Phu Street, Ha Noi and the Viet Nam Opera-Ballet Theater at 11, Nui Truc Street, Ha Noi for further information.