Four fashion designers, including Do Manh Cuong, Le Ha, Ha Truong and Tom K Nguyen, will present their latest collections to audiences at the 8th Dep (beauty) Fashion Show 2009 in Sai Gon Port, HCMC, September 26.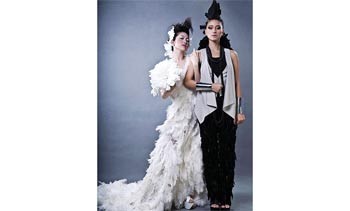 Two designs of the collection "Like a bird" by Do Manh Cuong
This year's show, "Freedom," will feature collections such as Like a bird by Do Manh Cuong and Wo-men by Le Ha, who are both names in the Vietnamese fashion industry, and are well-known for their DMC and Leas brands.
There are also the collections As I am from Ha Truong, with the Mirror Mirror brand, and Beyond the Limit by an overseas Vietnamese fashion designer, Tom K Nguyen, from Los Angeles, US.
Top models, the director Pham Hoang Nam, musician Quoc Trung, producer Le Nhu Thoa and stage designer Le Quoc Hung will all help the annual fashion show a success.