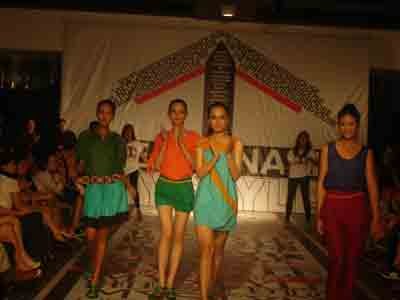 Designer Ngoc Han and models on the catwalk ( Photo: U. Phuong)
Vietnam Designer House in Ho Chi Minh City held its biggest ever fashion show 'My Style' yesterday, celebrating the first anniversary of the center in Hai Ba Trung Street in District 3.
The fashion show featured around 200 creations by 32 Vietnamese designers.  The creations included office wear, casual wear, evening gowns and wedding dresses. 22 of the designers are already established domestic fashion brand names.
Internationally well-known designers such as Anh Vu, Trong Nguyen, Viet Lien, Minh Hanh, Hong Vuong, Van Khoa and Bich Ha were present at the show along with Vietnam Collection Grandprix  winners of 2004, 2005, 2008 namely,  Thien Toan, Quang Huy and Minh Hoa. New up-coming second generation designers Nguyen Hang, Quang Huy, Thanh Huyen, Cuong Thinh, Bao Kim and Tuan Huy also graced the occasion. 
The designs used 3D technology to create costumes, playing with structures, textures and colour.
The designs were presented on the catwalk by male and female models of Vietnam Designer House namely by models Thuy Huong, Ha Dang, Hong Que, Binh Minh, Hoang Yen and Ngoc Quyen.
Participating in the show were also two winners of Vietnam's Next Top Model Contest 2010 Huyen Trang and Tuyet Lan as well as Miss Vietnam 2008 Tran Thi Thuy Dung and Miss Vietnam 2010 Dang Thi Ngoc Han.
Miss Vietnam 2010, Han took part in the show as a designer with her spring-summer collection using vignettes of Ly dynasty pottery and Vietnamese silk. She is a graduate of the Hanoi College of Fine Art and Fashion Design.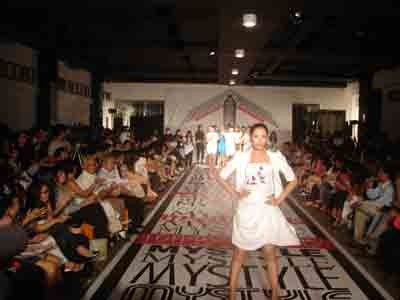 A model presenting one of the designs ( Photo: U. Phuong)
Vietnam Designer House was established by the Viet Mode Company to promote Vietnamese design talent by providing space for young designers to display and sell their creations.
Its target is to connect Vietnam's fashion design industry with countries already established in the international world of fashion like France, Italy, United Kingdom, United States and Japan. It seeks to provide updated news and technology in fashion as well as an opportunity and a platform to develop the skills of designers in Vietnam.