"People overcome difficulties in life; they recognize that nothing lasts forever." The contemporary dance Maybe Forever by Stuart and Philipp Gehmacher is a combination of singing and dancing, highlighting different sides of love.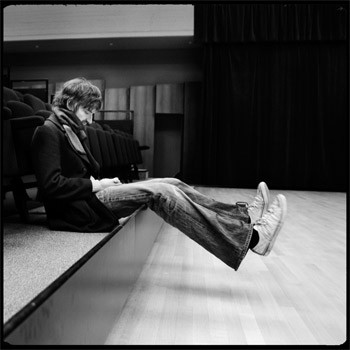 Audiences will meet up the talented guitarist Niko from the Mute band in a new job, preparing live music for the performance, at the stage work Maybe forever (Photo: Goethe Institute)
Maybe Forever is a collaboration in which the artistic worlds of two choreographers collide. The lullabies of singer-songwriter Niko Hafkenscheid accompany the pair onstage, and have them dance in a promised land. While Hafkenscheid sings of love and longing, the dance of Meg Stuart und Philipp Gehmacher describes the pain and memories of love's end.
The former dance critic Myriam Van Imschoot prepared the dramaturgy of the performance. The Goethe Institute will present the performance to Vietnamese public free-of-charge.
The performance will visit two biggest cities of Vietnam, Hanoi and Ho Chi Minh City. In Hanoi, it will start at 8pm June 4 at the Hanoi Opera House (1 Trang Tien street) and at HCMC Opera House (7 Lam Son Square, Dist.1) at 8pm June 8.
Free tickets can be collected at two venues: Goethe Institute Hanoi (56 – 58 Nguyen Thai Hoc street) from May 31 to June 4 and Goethe Institute HCMC (18 Street No.1, Do Thanh Compound, Dist. 3) from June 2 to June 8.
Questions or requests in related to the show can be sent to the email:
prog@saigon.goethe.org
.
Meg Stuart is considered one of the key figures in the international contemporary dance scene. Drawing from the vast reservoir of everyday movements, she has created a completely new aesthetic of dance.
The MA Philipp Gehmacher is famous for choreographing the opening of Tanzquartiers Wien, the first full-length piece "mountains are mountains", and other co-productions with prominent European dance theaters, and later in 2009 was awarded the Austrian Award of the Ministry of Education Art and Culture.
Meanwhile, the guitarist and songwriter Niko Hafkenscheid, mostly known as a member of the Brussels electro-rock band aMute, has created soundtracks for several documentaries and feature films, such as "Taliban nicht beendet" (2008) and "Simple Appareil" (2008).