Dinh Thanh Hai has been crowned the 2016 Junior MasterChef Vietnam which ended in Ho Chi Minh City on December 25.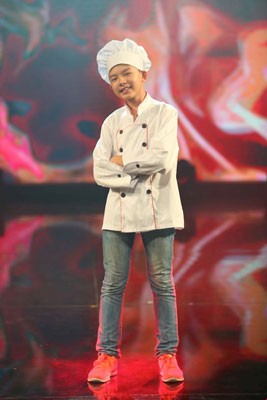 Dinh Thanh Hai, winner of the 2016 Junior MasterChef Vietnam (Photo: the organization board)
The winner received a prize worth VND200 million and a MasterChef Cup.

The final round saw four contestants, Minh Anh, Duc Hai, Bao Anh and Thanh Hai. The climax night brought a competition between the final selected two contestants Thanh Hai and Duc Hai. They spent two hours to finish the course menu of an aperitif, main course, and a dessert.

Thanh Hai won the jury's hearts with his dishes, sautéed foie gras and poached apple in wine; sautéed salmon with grapefruit sauce; and Panna cotta with purple passionfruit (Passiflora edulis) sauce and mango sauce.
Thanh Hai, 13, was born in the central coastal city of Nha Trang and moved to the city two years ago. He is a student of Nguyen Khuyen High School in Ho Chi Minh City and has five years' cooking experience. He is highly appreciated by members of the jury for his cooking skill.

The first season of Junior MasterChef Vietnam, the Vietnamese version of the popular international reality television show 'Junior MasterChef' was broadcast on VTV3 channel starting October 2. The audition round was held from now until September 5.
The cooking competition for culinary enthusiasts and cooks aged at 8-14 expects to bring viewers exciting moments in which competitors must overcome many challenges to reach to the title of Vietnam Junior Masterchef.
Junior MasterChef Vietnam is a Vietnamese Cooking Game Show based on the original British version of Junior MasterChef. The show is being produced in 30 countries around the world and broadcast in more than 200 countries with a huge number of viewers.