The cinema business of Vietnam has become more hectic than ever in the last days of the year. A series of newly produced films are on screen in big cinemas of Ho Chi Minh City. Surprisingly, they are directed by some young directors who were born in the 1970s (usually called "generation 7X").

It is said by cinema reviewers and movie fans that and both quantity and quality of these films are improved considerably. Entertainment, of course, is of great importance. The participation of some models, beauty queens and overseas stars as well as some hot scenes is a factor to attract the audience. However, the young directors tried not to abuse humorous incidents; they used modern music, fast rhythm and extraordinary style to make effects for these films.
A scene in "Hired Pregnancy"
Some outstanding films are "Hired Pregnancy" (produced by Phuoc Sang Film Company) by director Le Bao Trung, "2 in 1" (Thien Ngan Film Company) by director Dao Duy Phuc and "Truong Ba's Soul In The Butcher's Flesh" (HK Film Company) by director Nguyen Quang Dzung.
"Hired Pregnancy" is the story about a couple who try in vain to have a baby. A lot of imaginary events (dreams, imagination, etc.) happened; however, the audience is not bewildered. The director has successfully explored the potentials of his stars: Minh Thu acts better than she did a year earlier – "When Men Are Pregnant", Ha Kieu Anh, playing the role of a miserable young wife, has proved that she is not only a beauty queen.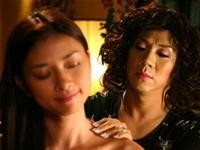 A scene in "2 in 1"
"2 in 1" by Dao Duy Phuc, a young director from Ha Noi City, is considered a good film for the taste of both northern and southern audience.
Most surprisingly, the film "Truong Ba's Soul In The Butcher's Flesh" by director Nguyen Quang Dzung, which is based upon the same famous drama written by playwright Luu Quang Vu, has been modernized with some humorous incidents reminding people of the blockbuster "Kungfu Hustle".
It is remembered that young directors of "generation 7X" started to make big successes a few years ago. Director Do Thanh Hai is an example. His films such as "Trust Me", "The Savings" and "The Sky Ahead" showed that he is a talented director. The audience laughs and cries at the same time with these films. Director Vu Ngoc Dang emerged as a director of marked individuality with his first film "The Rat" and later "Long-legged Girls" – a film for young and free people.
The development of private-owned film companies has offered young directors more chances to show their talents. It is high time to say "hello" to them – a new generation of directors.