Inspired by the Salsa dance from Latin America and the Tiger emblem of Larue Export Beer, the owner of La Casa Latina Bar and Restaurant in Ho Chi Minh City has redesigned his old place into a modern bar.
Casa Latina reopened in mid-March, 2006 at the old venue – 11 Thai Van Lung Street, District 1. The street, home to many restaurants and bars, side by side, is familiar to many foreigners.
With the idea of creating a new concept for the contracted outlet, Foster's Vietnam – the Larue Export Beer – has partnered with Out 2 Design to redesign Casa Latina with the subtle combination of Larue theme and Salsa symbol of a hot Latino Bar. This combination brings a new vitality to both, beer brand and dancing floor.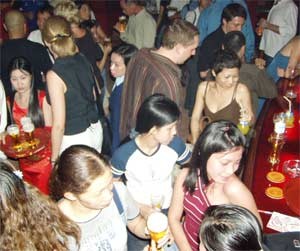 Casa Latina is full of customers on weekends (Photo: Tuong Thuy)
The new design, which replaced traditional buntings, posters and banners, at first entices the sight then gradually inspires customers.
"The concept is applied to every part of the bar: the bar counter, the walls, the door… "We want customers to discover and feel for themselves the new brand atmosphere through the drawings of the interior decoration. We hope that as they love the design, they will love the brand Larue", said Louise Bach Mogensen, Foster's Vietnam Business Manager.
She added, "We chose Casa Latina because it is a big and well known bar in Ho Chi Minh City. The old French villa architecture of the bar matches perfectly the original French character of Larue, the oldest beer trademark in Viet Nam."
The Tiger logo of Larue Export connects the brand with a history of almost one century. Larue Export was named after Frenchman Victor Larue, the founder of the Brasseries et Glacieres de L'Indochine Brewery, known as BGI. Established in 1909, Larue Beer earned its reputation as the Far East's premier European lager style beer, influencing generations of drinkers in Indochina.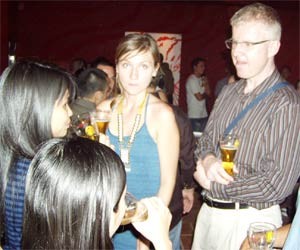 When you order beer, only Larue Export is served (Photo: Tuong Thuy)
Fabien, the Casa Latina owner, said he began redesigning the bar and restaurant in December 2005. It took three months before the first idea turned into the new design and another three weeks for applying the final layout.
"We value the cooperation and support of Foster's in this project. We expect that with the new design and special entertainment programs, Casa Latina will become the hottest outlet in town," he said, adding that his mother is Vietnamese.
Besides the decor, programs designed and sponsored by Foster's have enhanced the Larue Export theme. Customers can enjoy Victor Larue Hour with special prices for Larue Export Draught Pints everyday – just VND20,000 (US$1.25) for a pint. Live music shows will be held on March 31 and April 1 – Friday and Saturday. Later on customers will be fully updated on the monthly programs.
Ms. Mogensen of Foster's Vietnam said, "We see Casa Latina as an innovative way of working with our key accounts. This model benefits both Foster's and the outlet owners as it builds the brand's image as well as the outlet's reputation. In the future, we want to continue with this model for other brands of ours like Foster's and Larue Superior. We look forward to the joint promotion with other key accounts."
About Foster's in Viet Nam

Foster's, a leading brewer in Australia and worldwide, has been operating in Viet Nam since 1997 with its diverse variety of beers and soft drinks like Foster's Lager, Foster's Draught, Crown Larger, Larue, Larue Export, Larue Superior, BGI, and Orangina. Foster's in Viet Nam comprises three enterprises with total investment capital of US$119 million: Foster's Vietnam, Foster's Tien Giang and Foster's Da Nang. Foster's Vietnam is the holding company to manage operations of Foster's Tien Giang and Foster's Da Nang.