Do My Linh,20, a student of Hanoi Foreign Trade University has been named Miss Vietnam 2016 in a ceremony at Phu Tho Stadium in Ho Chi Minh City on Sunday night.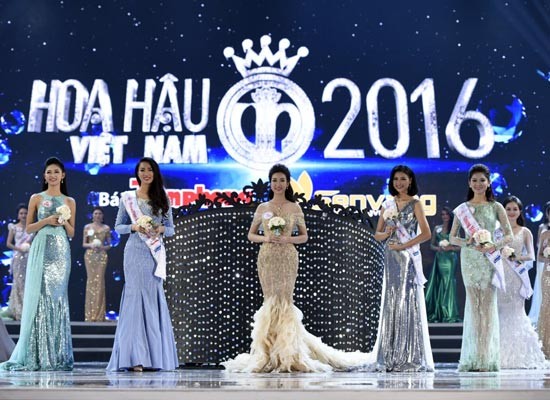 Do My Linh (C) is named Miss Vietnam 2016  (Photo:SGGP)

Linh got a cash prize of VND500 million (US$21,000) and a lot of valuable awards. She also received a crown handcrafted from 63 pearls and 3,260 sapphires, costing VND2.2 billion. The crown was made by 40 artisans in over three months, describing Ho Chi Minh City as the most dynamic and prosperous city in the country. 63 pearls and 3,260 sapphires symbolize 63 provinces and cities, and a 3,260km long coastline in Vietnam.
The first and second runnersup positions went to Ngo Thanh Thanh Tu and Huynh Thi Thuy Dung respectively. The beauties took cash prizes of VND300 million and VND250 million.
Thuy Dung also got the Miss Talent title. The Beauty with a Purpose Award belonged to Pham Thuy Tien, and Dao Thi Ha won Miss Sea title.
The organization board also awarded minor titles, Miss Ao Dai, Best Face, Best Skin, Best Hair and Best Evening Gown.
The South Korean pop star Rain (also known as Bi) performed in the final round night, together with local singers, such as Toc Tien, Ha Anh Tuan, Noo Phuoc Thinh, Dong Nhi.
Kicked off in March, 30 beauties throughout the country were chosen for the climax night of the Miss Vietnam beauty contest 2016. They participated in a series of sideline events, including taking part in charity projects and selfless acts within their groups.
Started in 1988, Miss Vietnam is one of the most prestigious beauty pageants in the country, aiming to honor knowledge, morality and beauty of Vietnamese women. The winners of the contest are always chosen to be representatives of the country in international beauty pageants.