A 34-minute documentary about a Vietnamese teenager who was a victim of Agent Orange has been nominated with five other short documentary films for an Academy Award this year.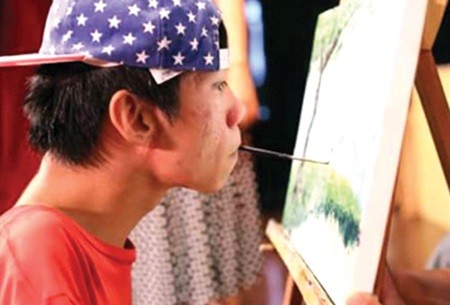 Sharing his story: Le Minh Chau in his painting workshop. VNS File Photo
Chau, Beyond the Lines by American director Courtney Marsh is about the life of Le Minh Chau who was born with birth defects due to Agent Orange.
The story focuses on the teenager's struggles with realising his dream to become a professional artist and clothing designer.
Despite being told that his ambitions were unrealistic, Chau was determined to live an independent, productive life.
In only 34 minutes in Chau, Beyond the Lines, the audience sees his world broaden incrementally over the years. At one point, Chau is visited by an American stranger who plays football with him, listening to him talk about his life ambitions.
Marsh, 29, said that she hoped the emotional story would awaken a young generation who knows little about the use of Agent Orange during the war.
Chau, now 25, was among the first people Marsh told about the news that the film had been nominated for the 88th edition of the Oscars.
Eight years ago, when the two of them met, Chau recognised something special about Marsh, who listened carefully to his story, unlike other film directors, he said.
Marsh and a Vietnamese-American, her only other team member, travelled between the US and Viet Nam several times over eight years.
Hoang Thi Sinh, who once worked for the Peace Village, and cared for Chau, said she said had told him that he could not become a painter because of his physical condition.
But she changed her mind when Chau organised an exhibition with painter Ho Dac Diep.
Despite his "adopted mother's" mistrust of his ability to realise his dream, Chau felt encouraged to pursue his ambition. Since then, he has produced many paintings, many of them by using a brush in his mouth.
The film received strong support from audiences when it was screened at several international film festivals.
She asked audiences who attended the film screenings to sign a letter requesting the US to clean AO-contaminated areas in Viet Nam and to help Vietnamese families with children born with defects caused by AO (dioxin).
"This is the first film I've ever made and it's the last one I've completed. Sometimes I thought it was taking too long, I wouldn't have set out to do it, but this has been one of the best experiences in my life," she was quoted as saying on the online magazine Moveable Fest.
Eight years ago, Marsh, who was in her final year in university, arrived in Viet Nam planning to make a documentary about street children in HCM City. Later, she was introduced to the Peace Village where AO victims were being cared for.
It was the first time in her life she had met the children. After that, she decided to change the topic of her documentary.
Chau was no ordinary 15-year-old when she first laid eyes on him, forced to walk on his knees after being born with debilitating birth defects that resulted from the lingering effects of the herbicide that was widely used during the Viet Nam War.
But she quickly found him to be extraordinary in other ways, specifically his persistence in his desire to become an artist.ý
Initially, Marsh, a native of south Florida, planned to make a documentary about five boys. Finally, she decided to choose Chau, who was 15 at the time, for his great aspiration to become an artist.