A documentary film commemorating musician Tran Lap will make its premiere in Hanoi on March 17.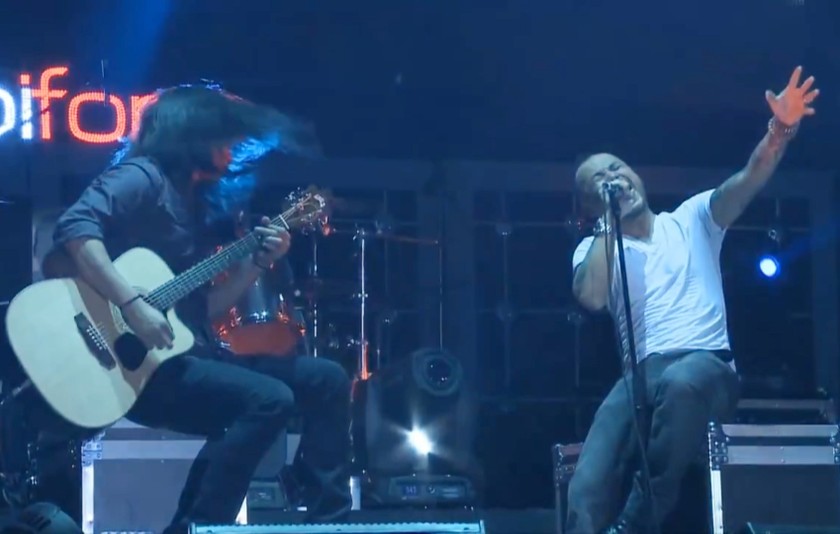 The performance titled "Fire lighting hands" featuring the rock band, Buc Tuong (The Wall) and its founder, composer and vocal Tran Lap take place at the Vietnam Exhibition Fair Center in Hanoi last January.
The film titled "Yesterday story" celebrating the 22nd anniversary of the establishment of the rock band, Buc Tuong (The Wall) will be screened at National Cinema Center, and at the film studio, 465 Hoang Hoa Tham Street in Ha Noi.

The 75-minute long movie is directed by Dang Linh and Hong Thang, and produced by the Viet Nam National Documentary and Scientific Film Studio.

The documentary tells about 20-year long-term voyage of the rock band, and outstanding moments and the living of the group's members.

Proceeds from ticket sales will be donated to child patients with cancer at Tan Trieu National Cancer Hospital.

As plan, the film will also be presented to the public in Ho Chi Minh City, Can Tho, Da Nang and Hai Phong.

Famous rocker and songwriter Tran Lap died in Hanoi in March last year after a courageous 5-month battle with cancer. The iconic singer whose real name is Tran Quyet Lap was born in 1974 in the northern province of Nam Dinh.
He was founder of the Buc Tuong (The Wall) rock band that was formed in 1995. The rock band includes three members, musician Tran Lap, guitarist Tran Tuan Hung and Nguyen Hoang. The band grew up from musical movement of students. The band is regarded as a leading rock band in Vietnam.
Lap was author of many ballad rock songs, favored by generations of students over the past 20 years, such as Bong hong thuy tinh (The glass rose), Dung nhu hon da (Don't be like a stone), Nguoi dan ba hoa da (The woman turned into stone) and more.
The most popular song, Duong toi vinh quang (Road to glory) is used as a theme song for several editions of the popular "Road to Mt. Olympia's Peak" quiz show organized by national broadcaster Vietnam Television.
He was one of the four judges of The Voice of Vietnam 2012 program that was aired on VTV3.