Director Mai Bang and the Nguyen Dinh Chieu Film Studio have just finished the documentary entitled "Camp Davis: Shotless Battlefield" honoring Vietnamese diplomats in the resistance war against the U.S Army. The film reminds us of the unforgettable historical events in those years.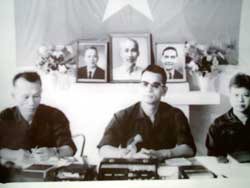 Colonel Vo Dong Giang (L) and major-general Hoang Anh Tuan (C) of the revolutionary government of South Viet Nam take part in a press conference at the Camp Davis.
Camp Davis, stuck in a corner of Saigon's sprawling Tan Son Nhat air base (Tan Son Nhat International Aiport at present), was the place where military delegations of the Democratic Republic of Viet Nam and the Provisional Revolutionary Government of South Viet Nam set up under the 1973 Paris peace agreement until the last day of April, 1975 to implement diplomatic missions.
The delegations took offensive campaigns to force the U.S Army and Republic of Viet Nam (former Saigon puppet regime) to execute terms of the Paris peace agreement.
Based on true events, the documentary tells about the military delegations' activities before the 1975 general offensive campaign, battles of wits between officials, and exchanges of prisoners of war between the two sides.
There were many difficulties in making the film, according to the film staff members. The two sides agreed with each other on restricting the use of cameras to take photographs or shooting on the base. Therefore, they have few pictures of the area. Meanwhile the witnesses of the "Camp Davis" event are mostly dead, or old and have difficulty remembering.
The film staff members had to ply between North and South to look for rare and valuable documents in archives, and meet all witnesses who are still alive to get more information.
The film shows uncompromising struggles of brave and intelligent Vietnamese soldiers on the diplomatic battlefield.
The film scripted by Le Manh Thi is expected to debut in not-distant future.