Following the popular documentary 'Paris Agreement of 1973' that received a lot of attention, another episodic documentary film on Mau Than Tet (Lunar New Year) military campaign better known as 'Tet Offensive of 1968' will be aired on VTV1 tonight.
The historical documentary series took ten years in the making and will be finally shown today. Directed by the Vietnam Television in collaboration with the Vietnamese Television Film Identity Production, the documentary clearly explains what happened in 1968.
Accounts of the 'Tet offensive' have remained clouded and contradictory for long. For the first time, the true facts will be revealed.
Over 12 episodes, which will air on Vietnam Television (VTV), viewers will learn in detail of the campaign, known as Mau Than 1968 and operated by South Vietnamese liberation forces against the US backed regime during the Lunar New Year.
The event was considered a turning point in the long battle against American invaders.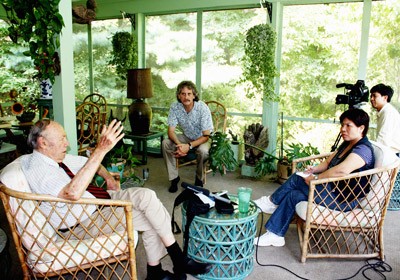 The film production crew
Each episode will explore a different aspect of the campaign, from the root of the plan through its implementation.
The developments of the operation in the central region and the south will be reassessed, with particular focus put on the key battlefields of Saigon, Hue and Khe Sanh in Quang Tri Province.
"Despite it being a key moment in the national resistance war, the Mau Than campaign has not been examined deeply by South Vietnamese filmmakers," director Le Phong Lan told the media.
"I wanted to find out why the US, one of the most powerful countries in the world, interfered in a small and backward country far away and carried out one of the fiercest wars of the 20th century," she added.
Extensive analysis by historians, researchers and insiders will offer an insight into the psychological warfare that went on between the two sides and the propaganda and distortion adopted by the US government and the Saigon regime.
"I visited the Vietnam Centre and Archives at Texas Tech University and saw reports about the 'Hue massacre' that were inaccurate," she said.
Her visit to Texas was one of many research trips to the US during the film-making process. She interviewed expert witnesses including history professor Larry Berman, former Washington Post reporter Don Luce and journalist and historian Stantey Karnow to hear their accounts of the Tet Offensive.
Lan has long enjoyed delving into the country's past. She is one of Ho Chi Minh City's few female documentary filmmakers and has devoted her life to capturing history and the workings of society on camera.