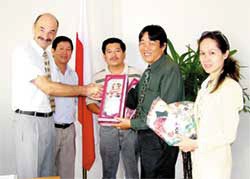 Consul General of the Republic of Poland gave dolls to organizing board.

The doll exhibition opens in Equatorial Hotel on May 20 and lasts three days from May 20-22. In the exhibition, traditional dolls of more than 20 countries are displayed.
Mr. Prezemyslaw M.Jenke, Consulate General of the Republic of Poland, donated five Polish traditional dolls to the organizing board of "Doll's House" program on May 19.
He said that the program is of great significance and brings the joy to disadvantaged children. "We have only five dolls to hand over to the program. They are Polish traditional dolls with unique clothes of localities in Poland", he said.
Representative of The Royal Thai Consulate General also gave two Thai traditional dolls on May 18. According to the organizing board, three consulates of Poland, Thailand and China donated traditional dolls to the program.
Besides the traditional dolls handed over by the consulates, Ho Chi Minh City Union of Friendship Organizations has lent the organizing board the traditional doll collections of Japan, Indonesia, Russia, Mongolia, etc to display in the exhibition.
In addition, Phuong Nga Company also displayed traditional dolls of eight countries of Egypt, South Africa, Japan, Mexico, Denmark, Portugal, China and Viet Nam with the settings of each country.

Related Articles:
Go Vap District Collected a Record Number of Over 8,000 Dolls
Set New National Record in Doll Collection
"Doll's House", A Humane Program
Dong Nai Province Goes In Company with "Doll's House" Program
Education and Training Office of District 1 Collects Over 6,500 Dolls
Ho Chi Minh City Enterprises Donate VND225 Million
More Than 30,000 Dolls and Cuddly Toys Handed Over
Thousands of Dolls to be collected
"Doll's House" Program Receives Warm Responses
Hundreds More of Puppets Donated
"Doll's House", The Joy of Poor Children