Can Tho is one of provinces which cooperated with the Sai Gon Giai Phong (SGGP) Newspaper to organize the "Doll's House" program. The SGGP Newspaper had a conversation with Mr. To Minh Gioi, deputy chairman of the People's Committee of Can Tho Province about the program.
SGGP's reporter: Could you please say something about the "Doll's House" program?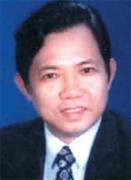 Mr. To Minh Gioi

Mr. To Minh Gioi

: It is the first time that the "Doll's House" program is organized in Can Tho on June 1, the Children's Day. This is the social activity mobilizing individuals and organizations to take care of children.

The program aims to express the love for children, especially disadvantaged children, bring the joy to them and turn their dreams into reality. The program shows a spirit of caring for children; it is also a practical activity to welcome the Children's Day and Vietnamese Family Day on June 28.

SGGP's reporter: Helping and caring for disadvantaged children are human goals in our society. What are the concrete activities that the province is conducting to achieve the goals?

Mr. To Minh Gioi: This is what the province is specially interested in. At the present there are 35 clubs with more than 3,000 disadvantaged children in Can Tho. The clubs have always tried to set up the housing for them and carry out the vocational training, protect them from abuses by bad people.

Can Tho also deployed the Children Month "Protecting Children Today For A Brighter Tomorrow". The province called on the departments and social organizations to support the program by practical activities, such as musical performances and offering gifts to the children.

SGGP's reporter: And how about the practical activities of the "Doll's House" program?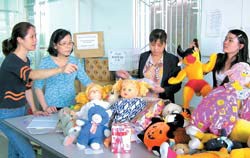 The management board is collecting dolls

Mr. To Minh Gioi:

The People's Committee of Can Tho province have delegated it to the City Youth Group, Education and Training Department and the Committee for Population, Family and Children of Can Tho to work with the SGGP Newspaper to organize the program. It will be carried out in three stages starting from April 15 to May 17, 2006.

We will call on schools, offices and enterprises to donate dolls. We hope to collect about 6,000 dolls; the second stage is expected to receive responses from offices, departments and social organizations.

Besides, the program will encourage pupils to donate dolls and cuddly toys to disadvantaged children and attach a short piece of writing about their feeling; to organize cuddly toy auctions to raise funds for scholarship for disadvantaged children. The program will be organized at Children's House of Ninh Kieu district.

According to management board, Vietnam Bank for Agriculture and Rural Development, Sai Gon Branch has supported VND10 million to the program.

Related articles:
- Education and Training Office of District 1 Collects Over 6,500 Dolls
_ Ho Chi Minh City Enterprises Donate VND225 Million
- More Than 30,000 Dolls and Cuddly Toys Handed Over
- Thousands of Dolls to be collected
- "Doll's House" Program Receives Warm Responses
- Hundreds More of Puppets Donated
- "Doll's House", The Joy of Poor Children