The Ministry of Culture, Sports and Tourism has given permission to a series of activities aiming at popularising the Don ca tai tu (southern amateur singing) heritage.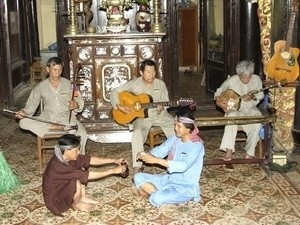 Don ca tai tu performance (Source: VNA)
Accordingly, 800 sets of 60-minute DVD entitled "The Art of Don ca tai tu music and songs of southern Vietnam " in Vietnamese and English version will be completed within this month.
In addition, a CD will be released to introduce the performance of popular artists of Don ca tai tu clubs and groups from southern cities and provinces.
Leaflets and books on Don ca tai tu's history, culture and music will also be published in Vietnamese, English and French to help educating the public about this unique traditional music genre.
Don ca tai tu has been recognised as part of the national intangible cultural heritage. Vietnam has also applied to the UN Educational, Scientific and Cultural Organisation (UNESCO) for recognition of the music as an intangible cultural heritage of humankind.