"Dolls House" program, organized by the Sai Gon Giai Phong (SPGGP) Newspaper to bring the joy to poor children, has been not only carried out in Ho Chi Minh City, but also in Dong Nai and Can Tho provinces. SGGP Newspaper's reporter had an interview with Mr. Huynh Van Toi, deputy chairman of the People's Committee of Dong Nai province about provincial participation in the program.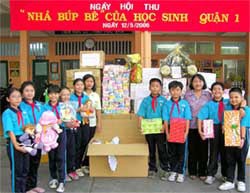 The doll collection day was organized by the Education and Training Department of District 1
"When SGGP Newspaper's representative explained the meaning of "Doll's House" program and wanted to work with Dong Nai to organize the program in the province, I agreed at once.
We have long cared for children by providing medicine, clothes, books or food and improving their material life. Anyhow, children have a special world that we have known little about.
Children even prefer dolls to eating; their love for dolls is amazing. Many children and adults have unused dolls, while disadvantaged children have been longing to have dolls. So, the "Doll's House" program is an excellent idea", Mr Huynh Van Toi, said.
SGGP's reporter: Dong Nai Province will build an amusement park for children. Will you bring a "Doll's House" program's content into it?
Mr. Huynh Van Toi: Provincial authorities will build the "Children's World" park in an area of over 100 hectares in Nhon Trach district to create a play ground for children and teenagers. It is also a place to meet for study and entertainment. Among them, "Doll's House" is a place where dolls are displayed to satisfy children's demand of dolls. We hope that the doll collections will be gradually built to include wide range of dolls from in and outside the country.
SGGP's reporter: Could you please tell us about the preparation for "Doll's House"?
Mr. Huynh Van Toi: We have established a co-coordinating board to collect dolls. We hope to attain the goal of 10,000 dolls for disadvantaged children. The Committee for Population, Family and Children will call for social and youth organizations to support the program.
SGGP's reporter: And what do you personally think?
Mr. Huynh Van Toi: All children's demands are adults' responsibilities. The "Doll's House" program is very practical. The beginning may be difficult, but it will continue to develop. Children, irrespective of skin colors and nationalities, around the world have loved dolls in the old days, today and tomorrow. With children, dolls also have life.
Related articles:
- Education and Training Office of District 1 Collects Over 6,500 Dolls
_ Ho Chi Minh City Enterprises Donate VND225 Million
- More Than 30,000 Dolls and Cuddly Toys Handed Over
- Thousands of Dolls to be collected
- "Doll's House" Program Receives Warm Responses
- Hundreds More of Puppets Donated
- "Doll's House", The Joy of Poor Children