Dong Nai Province's spring flower market will take place at the provincial Event and Convention Center from January 20-27.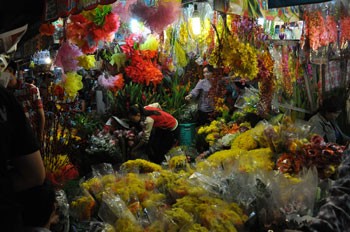 Spring flower market features thousands of ornamental plants nad flowers. (Photo: KK)
The event will feature thousands of exhibits of bonsai trees, ornamental plants, orchids, cacti, apricots and peach blossoms, ornamental birds and fishes, fruit arrangements and rock gardens contributed by hundreds of artisans from various flower clubs.

A special art performance will be organized with the participation of many artists on the Lunar New Year's Eve.

Bien Hoa City in Dong Nai - Ho Chi Minh City neighboring province will see a series of cultural activities celebrating Tet holidays from the Lunar New Year's Eve to the 7th day of the first Lunar month, such as Nguyen Van Tri flower street, children music performance, performances of street bands and Don ca tai tu (Southern amateur music).

There will be a traditional boat race and helicopter performance on Dong Nai River.