Authorities in the Mekong Delta province of Dong Thap commemorated the 82nd death anniversary of President Ho Chi Minh's father, Nguyen Sinh Sac, on November 22.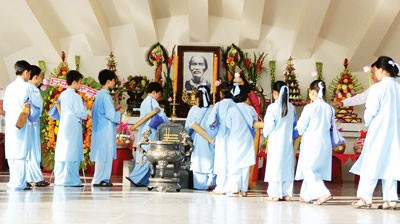 Students offer flowers at Nguyen Sinh Sac Relics House in Dong Thap Nov. 22, 2011 (Photo: sggp)

Local leaders, representatives of various departments and organizations of the Mekong Delta Provinces and Ho Chi Minh City, along with more than 1,000 local residents joined the event.
On the occasion, a series of cultural activities including an exhibition of the islands; a display of 21 pieces of coral stones taken from Truong Sa as evidence of Vietnam's sovereignty over the archipelago; introduction of books and a documentary on Junior Doctor Nguyen Sinh Sac and the late president Ho Chi Minh; a Chinese chess competition, a painting contest, a southern amateur music performance were held during the commemorative ceremony.
Enterprises and sponsors donated hundreds of million of dong to support the Nguyen Sinh Sac Study Encouragement Fund.
According to the provincial People's Committee, Nguyen Sinh Sac Relics House in Cao Lanh City has attracted a great number of visitors each year. Local authorities expect to receive around 300,000 domestic and international tourists this year.
In related news, the 'Xua va Nay' (Past and Present) Magazine offered a statue of the late Prime Minister Vo Van Kiet to Vinh Long Province on his 89th birth anniversary (Nov 23, 1922).
The 80x80 cm statue weighed 200kgs and was designed by sculptor Lam Quang Noi. Artisans in Hue took three months to complete the statue.

The sculpture has been displayed in Vung Liem town in Vung Liem District in the Mekong Delta province of Vinh Long, commemorating late Prime Minister Vo Van Kiet.