The movie "Dung dot" (Don't Burn) will represent Vietnam for the Best Foreign Language Film at the 82nd Academy Awards in 2010, it was recently announced.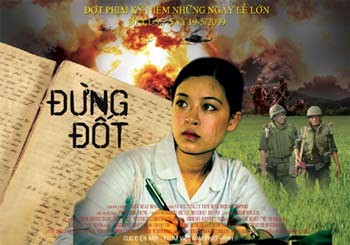 "Dung dot" promises to present the Vietnamese side of the Vietnam War.
"Dung dot" is a production by Vietnam Cinema Association Production.
"Dung Dot", directed and written by Dang Nhat Minh, is about an heroic army doctor's life and her love for her country and people.
The doctor, Dang Thuy Tram, dedicated her life to the country during the Vietnam War.
The film opens with a battle in Quang Ngai Province's Duc Pho District, where Thuy Tram worked and was killed in 1970 from a US attack.
After Thuy Tram's last battle, US soldier Fred Whitehurst chanced upon her two diaries, which haunted him for the next 35 years until he returned them to her family three years ago.
The private memoirs, popularly sought by readers both in Vietnam and around the world, are now preserved at the Vietnam Center and Archive in Lubbock, Texas.
The English version was released under the title "Last Night I Dreamed of Peace."
"Dung dot" is the shortened form of what a Vietnamese interpreter named Huan, of the former Saigon regime, is supposed to have told Whitehurst when he handed them back after reading them: "Dung dot, trong do da co lua (Don't burn [it], it has fire in it)." 
Recently, "Dung dot" won the Fukuoka Audience Award at the 2009 Fukuoka International Film Festival.
The 2010 Academy Awards will be presented on March 7, 2010
Related articles:

'Don't burn' to open film festival
War doctor's diary comes to life in film