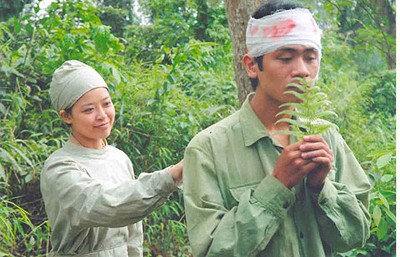 A scene in the film
Film 'Dung dot' (Don't burn), directed Dang Nhat Minh, has been chosen to open the National Film Festival April 29 to May 20, the Vietnam Cinema Department announced on April 23 in Ha Noi.
The film commemorates revolutionary martyr Dr. Dang Thuy Tram, who dedicated her life for the country during the Vietnam War.
The Department, together with FAFIM Vietnam Co, will present the film during the public holidays in April and May.
It will show two new films: 'Pha Din may phu' (Clouded Pha Din) and 'Am sac cua man dem' (Timbres and colors of the darkness).
There will also be a documentary 'Vietnam,' produced by Russia.
Classics will also be shown, including 'Ky uc Dien Bien' (Memories in Dien Bien), 'Hoa ban do' (Red Bauhinia flower), 'Sinh menh' (Life), 'Nam ngay trong doi vi tuong' (Five days in a general's life), 'Ha Noi mua dong nam 1946' (Hanoi in the winter of 1946), 'Duong thu' (Messengers' road), 'Nguoi dan ba mong du' (Sleepwalk woman) and 'Bai ca tren dinh Ta Lung' (The song on Ta Lung Peak).