The film "Don't burn ( Dung dot ) " was screened at the Viethaus in the German capital city of Berlin on August 22th.
It was about an heroic female army doctor's life and her love for her country and people. during the anti-US war and has won overseas Vietnamese audience's favor. "Dung Dot" was directed and written by Dang Nhat Minh,
The doctor, Dang Thuy Tram, dedicated her life to the country during the Vietnam War. The film opens with a battle in Quang Ngai Province's Duc Pho District, where Thuy Tram worked and was killed in 1970.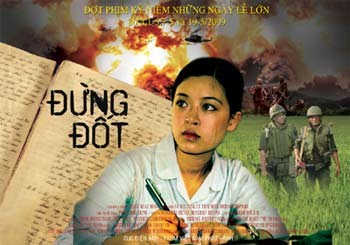 A poster from the movie Don't burn
Tram fell down on the battlefield at the age of 27 and her diary was found by a US soldier who kept it for 35 years before returning it to Tram's family. After Thuy Tram's last battle, US soldier Fred Whitehurst by chance found her two diaries, which haunted him for the long time until he manage to return them to her family three years ago.
"Don't burn" was produced in 2008 based on a diary kept by army doctor Dang Thuy Tram of the liberation army during the most violent wartime in the battlefield in the central province of Quang Ngai.
The private memoirs, popularly sought by readers both in Vietnam and around the world, are now preserved at the Vietnam Center and Archive in Lubbock, Texas.
The English version was released under the title "Last Night I Dreamed of Peace."
"Dung dot" is the shortened form of what a Vietnamese interpreter named Huan, of the former Saigon regime, is supposed to have told Whitehurst when he handed them back after reading them: "Dung dot, trong do da co lua (Don't burn [it], it has fire in it)."
Vietnamese Ambassador to Germany Do Hoa Binh and his wife along with Vietnamese people in Germany attended the event.
At their talks with director Minh after the film show, the Vietnamese audience said they hoped he would make a film on the life and career of the Vietnamese community in Germany.
The movie "Don't Burn " has been named to represent Vietnam for the Best Foreign Language Film at the 82nd Academy Awards in 2010. "Dung dot" also won the Fukuoka Audience Award at the 2009 Fukuoka International Film Festival.