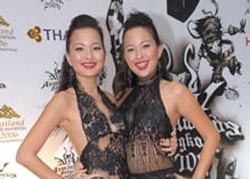 MTV VJs May and Choy (L to R) at the MTV Music Awards 2006 in Thailand.
Twin MTV Asia presenters May and Choy will visit Viet Nam to attend the release ceremony of the Bank for Foreign Trade of Viet Nam (Vietcombank) – MTV credit card on July 31 in Ho Chi Minh City.
The twins, nicknamed "Double Trouble", were born in Malaysia to a Chinese father and a Norwegian mother. They moved to Australia at the age of 12 to study, and then returned Malaysia to work as models.
The twins are known throughout Asia as Video Jockeys (VJs) on MTV Asia. However, like most self effacing stars, they say that they are just normal girls.
"We love our family, always tease each other, and both love Orlando Bloom," they said.
Related links: